32 Admirable Squoval Nails
Nails that are trimmed to shape then polished to perfection? Now that's something to check out.
Squoval nails are nails that are carefully shaped to rectangles with round edges instead of right angles. The end results are amazing since you rarely get to see nails trimmed that way. Once nail artists achieve the shape, they immediately apply appropriate designs into it like geometric style. The theme today is of the shaping so for the design, it is come what may.
See Also: 30 Enticing Back To School Nails
Squoval nails are just one of the re-shaping techniques of nail art that is making buzz in fashion today. Check out the collected 30 Admirable Squoval Nails today for inspiration and admiration.
30. Black French Tips On Squoval Nails
Image Credit: Brit + Co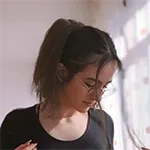 About Shirlyn Ramos
Shirlyn Ramos has worked as a manager for a famous nail salon chain for over 10 years. She's seen it all, and now she likes to share her experience with others in the hopes of helping them create beautiful nails. When she's not busy with work, Shirlyn enjoys spending time with her family and friends. She loves going on walks and exploring new places.
Thoughts on "32 Admirable Squoval Nails"