30 Cuddly Reindeer Nails
Reindeers are probably the most famous animals during Christmas. If I were an animal right now that is not a reindeer, I would be so jealous over my reindeer friends and to the job they are most famous of.
Enough on funny metamorphosis, let's talk more about reindeers and the nail art designs it rock. It may be seasonal but that actually depends on you since the designs are not that shabby at all. The nail designs are expected to have a lot of glitters to represent snow and some supplementary subjects to create the story behind the art. With the reindeer designs painted, there is a 90% chance that one of them has a red nose, probably due to the cold weather. Reindeers flying, reindeers taking selfies, and reindeers just posing for the hell of it, these nail arts are so adorable to the highest level.
See Also: 40 Creative Christmas Nail Art Design
Ride along with this journey and appreciate with what the holidays can do to your nails. With how beautiful these reindeer-rendered nail arts are, it may not be a shock to everyone to find out Santa's nails are dressed with the faces of his cute reindeers.
Take a look at our 30 Cuddly Reindeer Nails collection now!
30. Glittery Red Nose Reindeer Nail
Image Credit: Instagram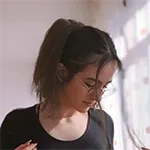 About Shirlyn Ramos
Shirlyn Ramos has worked as a manager for a famous nail salon chain for over 10 years. She's seen it all, and now she likes to share her experience with others in the hopes of helping them create beautiful nails. When she's not busy with work, Shirlyn enjoys spending time with her family and friends. She loves going on walks and exploring new places.
Thoughts on "30 Cuddly Reindeer Nails"