30 Exquisite Mandala Nail Art Ideas
by Rose Walker
Known patterns are always favored subjects of the modern arts. Aside from its given beauty, the lines, curves, and repeatitions allow artists to create a solid design plan which is easy to execute.
One of the famous patterned designs in the world are the mandalas. Mandalas originated from south asia and are connected to the region's religious beliefs. Nowadays, mandalas are common subjects for modern visual arts like digital, tattoos, and nail art. In nail art, part of the whole mandala design are painted and decorated into one's nails. Most of the mandala inspired nail arts are done on pastel colored polishes then the pattern are painted in black or with color combinations.
It may look like a spider web and sometimes flower petals to some but make no mistake mandalas are sophisticated designs with a beautiful history to know of. Having it on you not just give you cool nails, it also connects you to the awesome cultures of the world.
See Also: 40 Stylish Tribal Nail Art Ideas
Take a look at these 30 Exquisite Mandala Nail Art Ideas and fall inlove!
30. Mandala Print On Grey Nails
Image Credit: Instagram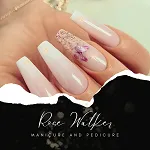 About Rose Walker
Rose Walker has worked as a nail artist for over 10 years. She's gained a lot of experience and developed her own unique style during that time. When she was working at a famous nail salon, she met Shirlyn. The two of them quickly became friends, and eventually decided to start their own website together. Naildesignideaz is the result of their collaboration - it's a website where they share their experience and offer tips on how to create beautiful nails.
Thoughts on "30 Exquisite Mandala Nail Art Ideas"