35 Sweet Holiday Nail Designs
Something is coming very soon and it is making all people around the world super busy and at the same time, super excited. This is not just an event or a single personality whom everyone is dying to meet, but this is a series of events that is makes up the most enjoyable week of the year.
The holiday combo of Christmas and New Year which happen a week apart is the ultimate party season for most of the countries in the world. Aside from its significance to our belief system, it is also the holidays that require extravagant decorations that must be put up and stay for a couple of weeks. Throughout the years, a lot symbols are being tagged along with these holidays that people would never run out of ideas for decoration. For the nail art post today, we will revisit all those symbols and things that are associated to both Christmas and New Year and let's enjoy on nails.
See Also: 40 Mesmerizing Nail Designs For Winter
Holiday nail designs are festive and colorful. Just like fireworks, these nail designs are mean to give light and joy to ladies' nails all over the world. Get ready to celebrate the upcoming holidays and may you rock the designs featured!
35. Blue Themed Holiday Nails
Image Credit: Gramfeed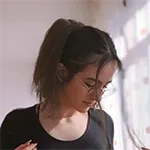 About Shirlyn Ramos
Shirlyn Ramos has worked as a manager for a famous nail salon chain for over 10 years. She's seen it all, and now she likes to share her experience with others in the hopes of helping them create beautiful nails. When she's not busy with work, Shirlyn enjoys spending time with her family and friends. She loves going on walks and exploring new places.
Thoughts on "35 Sweet Holiday Nail Designs"