40 Impressive Christmas Nail Designs
by Rose Walker
For you guys out there who are following my updates, you know that I just recently posted an article about reindeer inspired nail arts. Because I still feel the hype of the holidays after writing it, I decided to go all the way and venture the nail art designs for Christmas.
Green, red, and white are the main colors of this theme wherein hundreds of Christmas-related designs can be applied into the nails. Famous Christmas personalities like Santa Claus, Frosty, and Rudolph are not missed with most of the samples. Glitters are applied as snow or to shining Christmas balls while Christmas trees are lined with lights that brighten up the designs even more.
See Also: 35 Winter Wonder Snowflake Nails
Christmas is just around the corner. Decorating the house and wrapping of gifts are already expected from most of us who do not want to get squeezed into the Christmas rush. While everyone's at it already, you guys may also want to get Christmas nail art designs as early as now. Your nails will not just turn awesome, they will also become the most trendy.
Take a look at these 40 Impressive Christmas Nail Designs and get yours now!
40. Glittered Christmas Tree Nail Accent
Image Credit: Styletic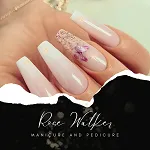 About Rose Walker
Rose Walker has worked as a nail artist for over 10 years. She's gained a lot of experience and developed her own unique style during that time. When she was working at a famous nail salon, she met Shirlyn. The two of them quickly became friends, and eventually decided to start their own website together. Naildesignideaz is the result of their collaboration - it's a website where they share their experience and offer tips on how to create beautiful nails.
Thoughts on "40 Impressive Christmas Nail Designs"