40 Subtle Yet Chic Nail Art Ideas
by Rose Walker
I guess nowadays, a plain nail polish, no matter how expensive it is, ends up being subtle and simple all because of the new fab on nail arts. I say that because most of the nail art designs out there right now are created loud and excessive, with the introduction of 3D materials.
However, the true essence why women paint their nails on the first place I think is still there, and that is elegance. Elegance by accentuating the personality of the bearer, which is the true purpose of nail polishing. In order to achieve two equally in-demand themes, nail artists are finding ways to incorporate modern nail art to the plain polishes. They add new tones and glitters on top of the subtle and elegant base color thereby creating a mix of awesomeness.
Check out these 40 Subtle Yet Chic Nail Art Ideas! Subtle but chic nail art—old school meets new school indeed.
40. Sophisticated French Tip Manicure
Image Credit: Polish Madness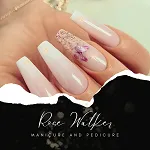 About Rose Walker
Rose Walker has worked as a nail artist for over 10 years. She's gained a lot of experience and developed her own unique style during that time. When she was working at a famous nail salon, she met Shirlyn. The two of them quickly became friends, and eventually decided to start their own website together. Naildesignideaz is the result of their collaboration - it's a website where they share their experience and offer tips on how to create beautiful nails.
Thoughts on "40 Subtle Yet Chic Nail Art Ideas"