50 Darling Animal Nail Art
by Rose Walker
Ladies, check out our latest set of animal nail art.
For those days when you want to go for cute rather than sophisticated or fierce, adorable nail art is the way to go. Animal nail art is usually colorful or highlights one bright color that can add a splash of vibrancy to your overall look.
See Also: 40 Creative Animal Print Nail Art To Inspire You
For example, our peacock designs and bee nail art in this set are very eye-catching. On the other hand, our rat nail accent and squirrel designs are very clever.
Imagine these darling animal nail art paired with a soft fuzzy sweater for winter, or a summery dress or overalls for warmer days. You'll definitely feel lighter and younger with these animal designs.
49. Sexy Cat Animal Nail Art
Photo Credit: fenzyme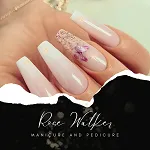 About Rose Walker
Rose Walker has worked as a nail artist for over 10 years. She's gained a lot of experience and developed her own unique style during that time. When she was working at a famous nail salon, she met Shirlyn. The two of them quickly became friends, and eventually decided to start their own website together. Naildesignideaz is the result of their collaboration - it's a website where they share their experience and offer tips on how to create beautiful nails.
Thoughts on "50 Darling Animal Nail Art"