50 Cute Animal Nails
by Rose Walker
Fashion girls, if you like cutesy and whimsical stuff, you will like these animal nails.
We've got your favorite animals like cats, puppies, pigs, bears, and pandas. We've even got more exotic animals like snakes, jellyfishes, and flamingos.
See Also: Panda Nail Art: Step by Step Tutorial
They come in cartoony, silhouette, and even abstract designs. Some are pretty clever like nails of cheese and one mouse nail accent. If you go through the lot, you'll definitely find something that will catch your eye.
If you've got kids, nieces, or work with children, your animal nails will be a surefire hit!
50. Pink Cat Animal Nails
Photo Credit: totalbeauty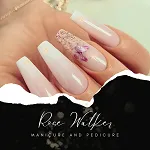 About Rose Walker
Rose Walker has worked as a nail artist for over 10 years. She's gained a lot of experience and developed her own unique style during that time. When she was working at a famous nail salon, she met Shirlyn. The two of them quickly became friends, and eventually decided to start their own website together. Naildesignideaz is the result of their collaboration - it's a website where they share their experience and offer tips on how to create beautiful nails.
Thoughts on "50 Cute Animal Nails"