30 Black Glitter Nail Polish
Do you want the galaxy on your hands? Paint your nails with some black glitter nail polish.
What do you think of when you see black glitter nail polish? We think of looking up at the sky at night and all the stars in the universe are a-twinkling. Or maybe it's the jewelled depths of the night sea for you? Whatever black glitter nails or galaxy nail designs remind you of, we're sure it's a beautiful and mysterious scene.
See Also: 30 Edgy Black Nails With Design
Now there are different types of black nail polish with glitter. Some are glossy, matte, or very dark. Some glitters are very fine, others have bigger sparkling bits mixed in, while some have different colors of glitter like all gold or multi-colored.
Check out our collection below so you can see which type and brand of nail polish you would consider buying for black glitter nail polish.
29. Look Like Stars Shining in the Midnight Nail
Photo Credit: livelovepolish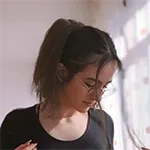 About Shirlyn Ramos
Shirlyn Ramos has worked as a manager for a famous nail salon chain for over 10 years. She's seen it all, and now she likes to share her experience with others in the hopes of helping them create beautiful nails. When she's not busy with work, Shirlyn enjoys spending time with her family and friends. She loves going on walks and exploring new places.
Thoughts on "30 Black Glitter Nail Polish"