15 Great Cancer Nails You Can't Pass Up
Ready for some cool Cancer nails?
Influenced by the moon, people born under this zodiac sign are moody. They are emotional and sympathetic. At times, they can be suspicious and insecure, too. This makes Cancer one of the most challenging zodiacs to understand.
However, once you really get to know them, you'll love how loyal and dependable they are. They value their jobs and co-workers as much as they care about their families and friends.
See Also: 13 Cool Gemini Nails To Express Your Personality
Cancers are creative and artistic. They totally enjoy expressing themselves creatively. And because of that, we're totally sure you'll find it hard to resist the designs below.
So, get your nail art tools ready and let's begin!
Horoscopes and Cancer
Photo Credit: rochas
Cancer Astrological Nail Art
Photo Credit: sloppyswatches
Constellation And The Symbol
Photo Credit: nailzini
Light Blue with Pearl Decals
Photo Credit: more
Milky Black Background Shimmering with Holographic
Photo Credit: polish991
Five Stars In The Cancer Constellation
Photo Credit: tracesofpolish
Cute Astrology Cancer Sign Nails
Photo Credit: polishedart
Cancer Stamping Nail
Photo Credit: moyou_london
Heart Angel Wings Cancer Zodiac
Photo Credit: chickettes
Cancer Nail Art
Photo Credit: nailpolis
Cancer Nail Art Swatches
Photo Credit: nailpolis
Cancer Zodiac with Dream Catcher
Photo Credit: tumblr
Night Sky Nails
Photo Credit: tumblr
Astrology Sign Cancer Finger Nail Art
Photo Credit: Pinterest
Symbol Sign Cancer Sticker Water Transfer Decal
Photo Credit: etsy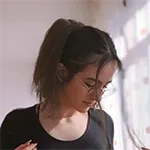 About Shirlyn Ramos
Shirlyn Ramos has worked as a manager for a famous nail salon chain for over 10 years. She's seen it all, and now she likes to share her experience with others in the hopes of helping them create beautiful nails. When she's not busy with work, Shirlyn enjoys spending time with her family and friends. She loves going on walks and exploring new places.
Thoughts on "15 Great Cancer Nails You Can't Pass Up"