15 Sweet and Tart Cherry Nails
by Rose Walker
Make your friends salivate over your nail design art with these delicious cherry nails. Just looking at them is making us hungry!
Cherry designs are abundant in many forms of popular art. As a fruit, they're tart and sweet. They're a favorite with many especially old grannies with arthritis. (Bet you didn't know they were good for creaky knees.) Perhaps that's what makes them eye-catching. It's that vivid red and the memory of sweetness. Thus we can find cherry print on stationary, cloths, and product packaging.
See Also: 36 Fruit Nail Art Designs
Now get that cherry print on your nails and you're guaranteed to get a lot of good comments from friends. The classic design is to have red cherry fruits against a white backdrop. However, we found a few more fascinating designs for you.
See our cherries in different sizes and renderings in background colors of blue, green, yellow, peach and black. See them paired with polka dots, stripes, and checks.
Check them out!
15. Two Adored Cherry Nails
Photo Credit: mis_esmaltes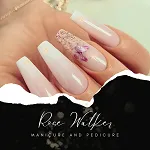 About Rose Walker
Rose Walker has worked as a nail artist for over 10 years. She's gained a lot of experience and developed her own unique style during that time. When she was working at a famous nail salon, she met Shirlyn. The two of them quickly became friends, and eventually decided to start their own website together. Naildesignideaz is the result of their collaboration - it's a website where they share their experience and offer tips on how to create beautiful nails.
Thoughts on "15 Sweet and Tart Cherry Nails"