30 Grand And Classy Nails
I know that painting nails is a move to become classy, even for just a little. But, within this fashion move is a collection of nail art designs that defines the word "classy" to a whole new level.
Classy nail art offers colors and glitters that are carefully thought of to create special design portfolio that makes simple to elegant and an okay to fabulous. These nail arts are for special occasions that needs sophistication like an A lister. Nail designs that are considered classy are mostly with one shade of polish only topped with light patterned art or glitter. Not so much playfulness and all about finesse.
See Also: 30 Must-Try Dark Nail Designs
Check out some of the classiest of the classiest that are for meant to be tries out by your own nails. A formal party which you will be attending to will never be the same with these glamorous nails, for sure.
30. Beautiful Gem Inspired Nail Design
Image Credit: Bloglovin'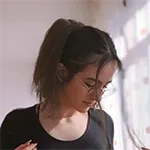 About Shirlyn Ramos
Shirlyn Ramos has worked as a manager for a famous nail salon chain for over 10 years. She's seen it all, and now she likes to share her experience with others in the hopes of helping them create beautiful nails. When she's not busy with work, Shirlyn enjoys spending time with her family and friends. She loves going on walks and exploring new places.
Thoughts on "30 Grand And Classy Nails"