30 Cutie Patootie Nails
Love cute things that make you go "d'awwwww"? Well then, this is the right place for you because all of the nail art here is just 100% adorable from cute hedgehogs to fuzzy and/or fluffy creatures to even some cute abstract designs.
As women, we often go for fiery red passionate nails or trendy leopard print. For the daily grind though, we often choose nudes or simple nail designs for short nails. But sometimes, we just want to go for the cute factor.
See Also: 35 Cute-As-Hell Bunny Nails
Even if you may not like some things, with the variety of what we consider "cute" available down below, you're sure to find something that tickles your funny- *ahem* cute bone!
Feel free to indulge yourself in the adorableness below.
29. Hedgehog King Nails
Photo Credit: nailbees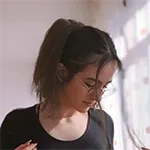 About Shirlyn Ramos
Shirlyn Ramos has worked as a manager for a famous nail salon chain for over 10 years. She's seen it all, and now she likes to share her experience with others in the hopes of helping them create beautiful nails. When she's not busy with work, Shirlyn enjoys spending time with her family and friends. She loves going on walks and exploring new places.
Thoughts on "30 Cutie Patootie Nails"