32 Easy Nail Designs For Beginners
by Rose Walker
In today's post we would like to showcase a line up of design that encourages first-timers and beginners to nail art.
The design samples we have for today are simple arts that a beginner can replicate and practice on. These designs not only satisfy the cravings of the customers for nail art but also encourage aspiring nail artists to expand their horizon. Although they are simple to look at, they are still eye poppers in terms if public impact.
See Also: 32 Heavenly Pastel Nails
Browse through all the collected designs in store for all of you guys. If you happen to be a first-timer enthusiast, you may send one of the samples to your favorite salon attendant and encourage her to start doing nail art on you.
30. Gradient Nail Design
Image Credit: Gal Knows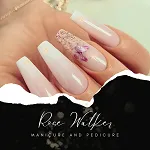 About Rose Walker
Rose Walker has worked as a nail artist for over 10 years. She's gained a lot of experience and developed her own unique style during that time. When she was working at a famous nail salon, she met Shirlyn. The two of them quickly became friends, and eventually decided to start their own website together. Naildesignideaz is the result of their collaboration - it's a website where they share their experience and offer tips on how to create beautiful nails.
Thoughts on "32 Easy Nail Designs For Beginners"