35 Super Cute And Easy Nail Designs For Kids
by Rose Walker
Mommies of small girls can take help from these easy nail designs that are shown below. After having covered nail designs for women and teenagers, we are now focusing towards nail art for kids. Small girls would fall in love with these stunning nail trends as these are not just adorable, but are super easy to do. From dots, cartoons, flowers to stickers, we have it all in our kitty today!
8. Easy nail designs with stripes
Cute silver striped nails for kids
If you are looking for simple nail designs for kids, stripes would help you attain cute nails in no time. Hence, below, please find some gorgeous looking striped nail art for young girls. These designs can be painted by kids themselves as no expertise is needed. You can combine dots too with stripes.
Image Credit: blogspot
Image Credit: staticflickr
Image Credit: trendymods
Little girls, these days, seem to have fallen for cool nail designs that are in vogue presently. All these nails showcased are simple and look sweet. Some of these designs are so easy that one can do it herself. Just start with super easy nail designs like dots and stripes if you are a newbie. Then proceed onto others like flowers and cartoons.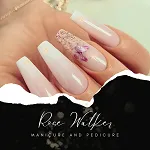 About Rose Walker
Rose Walker has worked as a nail artist for over 10 years. She's gained a lot of experience and developed her own unique style during that time. When she was working at a famous nail salon, she met Shirlyn. The two of them quickly became friends, and eventually decided to start their own website together. Naildesignideaz is the result of their collaboration - it's a website where they share their experience and offer tips on how to create beautiful nails.
Thoughts on "35 Super Cute And Easy Nail Designs For Kids"