30 Exquisite Gold Nail Designs
Gold is the color of the rich. If you dig up the history of the world, gold has always been the ultimate source for wealth and power.
Now, if you guys have gold-colored nail art, then wealth is expected to come your way. Its all about right visualization and of course, hard-work. There are a lot of nail art designs wherein gold is the main shade. Gold glitters and speckles are also readily available around so it is also well utilized to create accents to the per-polished nails.
See Also: 30 Lovable Peony Nails
We are happy to feature some of the best and the most glamorous gold nail art designs in today's post. These designs will never fail to impress your craving for fabulous nails and impress the viewing public as well.
30. Broken Glass Effect On Gold Nails
Image Credit: Glitz N Dirt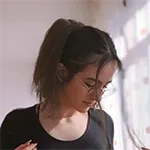 About Shirlyn Ramos
Shirlyn Ramos has worked as a manager for a famous nail salon chain for over 10 years. She's seen it all, and now she likes to share her experience with others in the hopes of helping them create beautiful nails. When she's not busy with work, Shirlyn enjoys spending time with her family and friends. She loves going on walks and exploring new places.
Thoughts on "30 Exquisite Gold Nail Designs"