40 Modish Green Nails
Nails are like blank canvasses waiting for colors to be painted on. The possibilities are limited only by your imagination and you can choose whatever color or design to showcase or even flaunt. And today is all about green nails!
Green is the color of nature, the color which symbolizes the act of moving forward, and the color of naughty sexy things. Green nail art designs are usually considered as one of the loudest shades because they instantly grab attention in public. Most of the rendered art on green-based nails are all about nature and plants.
See Also: 30 Lovely Lace Nail Designs
We're showcasing some of the most awesome green nail arts found in the internet. If you are one of those people who never expected green to be a good nail color, then these beautiful nail designs might change your mind. The moment you see these amazing designs, we won't be surprised if you decide to try them out.
40. Scales Design On Green Nails
Image Credit: Nail Art Style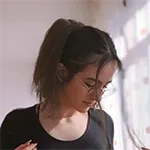 About Shirlyn Ramos
Shirlyn Ramos has worked as a manager for a famous nail salon chain for over 10 years. She's seen it all, and now she likes to share her experience with others in the hopes of helping them create beautiful nails. When she's not busy with work, Shirlyn enjoys spending time with her family and friends. She loves going on walks and exploring new places.
Thoughts on "40 Modish Green Nails"