15 Sweet Mothers Day Nail Art
Happy Mother's Day, NailDesigners! Whether you're a filial daughter or a hard-working mom yourself, everybody in the world has a reason to celebrate this special holiday. Unless you're an alien, all of us were created from the blood and tears of our mothers.
Nowadays, Mother's Day has become such a commercial celebration. Stores vie to sell their Mother's Day merchandise of roses, chocolates, and cake. Restaurants have Mother's Day specials and retail outlets have special Mother's Day sales.
Surprise your mother with a special date on this day. Maybe pay her a visit with something special you whipped up. Or take a walk in the park with just the two of you. In the end, face time with you is a precious and treasured moment for her.
And don't forget! Flash your Mother's Day nail art! We have a lot of amazing nail art in this collection that we bet she'd love. Maybe you can even get a mani and pedi together!
Check out our special Mother's Day collection below.
15. "Happy Mother's Day" Nail Stamped with Heart Stencils
Photo Credit: bruisedupdollienails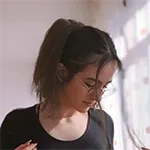 About Shirlyn Ramos
Shirlyn Ramos has worked as a manager for a famous nail salon chain for over 10 years. She's seen it all, and now she likes to share her experience with others in the hopes of helping them create beautiful nails. When she's not busy with work, Shirlyn enjoys spending time with her family and friends. She loves going on walks and exploring new places.
Thoughts on "15 Sweet Mothers Day Nail Art"