30 Creative Nail Art for Toes
by Rose Walker
NailDesigners, we always feature great designs for our hands, but what about nail art for toes?
Prettifying our toenails is perfect for a boring winter day cooped up at home, or a warm day where you'll be wearing sandals or peep-toe shoes. You can choose to either match your fingernail art with your toenail designs, or go nude and simple with your fingernail art and let your toe designs do the talking.
See Also: 35 Attractive Nail Art Designs For Your Toes
Nail art for toes is different from nail art for fingers. This is mainly because the shape and sizes of our toenails are different from our fingernails. And yet, there are many creative and resourceful designs that make best use of this short and wider canvass space.
Just check out our collection below to see what we mean! You'll be inspired to start doing nail art for your own toes once you see these awesome designs.
28. Dotted and Striped with Hearts
Photo Credit: peditimeyagala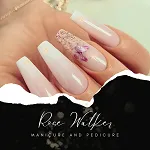 About Rose Walker
Rose Walker has worked as a nail artist for over 10 years. She's gained a lot of experience and developed her own unique style during that time. When she was working at a famous nail salon, she met Shirlyn. The two of them quickly became friends, and eventually decided to start their own website together. Naildesignideaz is the result of their collaboration - it's a website where they share their experience and offer tips on how to create beautiful nails.
Thoughts on "30 Creative Nail Art for Toes"