30 Nude Nails Ideas
There are certain fashion efforts in this world that even with the changing times, these "constants" will never lose its fame and will always be in demand. Some of these are the red lipstick, the black dress, the pearl necklace, and the long straight hair.
As for the nails, there is also a specific design that if a lady gets tired of colors and art, she can choose this design and be worry-free. Nude nails are nails that are polished with flesh, peach, or light brown shades that if you just get a glimpse of it, it looks like the nails are bare. The best thing about nude art designs is that not only it provides a clean and uniform shade for the nails, it can also be a good base for gemstone accessories.
See Also: 30 Bold Geometric Nail Art
Subtle, simple, yet very elegant, nude nails are definitely the design for all seasons. We have the most inspiring nude nail art designs today which you ladies can easily replicate. Enjoy the collection!
30. Embossed Ornate Nude Nails
Image Credit: Best Art Nails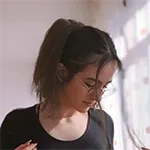 About Shirlyn Ramos
Shirlyn Ramos has worked as a manager for a famous nail salon chain for over 10 years. She's seen it all, and now she likes to share her experience with others in the hopes of helping them create beautiful nails. When she's not busy with work, Shirlyn enjoys spending time with her family and friends. She loves going on walks and exploring new places.
Thoughts on "30 Nude Nails Ideas"