35 Oval Nail Designs
by Rose Walker
We have been through a lot of art nail designs and nail shapes together. Different designs were researched and collected which corresponds to a particular theme. I guess we had enough themes that it is about time to take a break on looking for a new one.
For today's post, we go normal. Oval nails are basically the default nail shape design in the world. We didn't have the chance to feature this in the beginning so let me do it this time. Oval nails are best with plain, traditional polishes. These designs are good for day-to-day activities and are also the choices of the aged women who are not fond of the new trends. However, even with just plain polishes, it is never an excuse to accessorize the nails. Oval nails can still have glitters and jewels just like the more novel designs out there for nail art.
See Also: 30 Admirable Squoval Nails
For mothers and fashionable women out there, check out the best oval nail art designs I have in store for you. Some of the samples may be familiar or not new to you so enjoy the others which you can apply to your nails easily. Have fun!
35. Color Block Oval Nail Designs
Image Credit: Cuded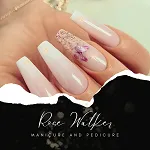 About Rose Walker
Rose Walker has worked as a nail artist for over 10 years. She's gained a lot of experience and developed her own unique style during that time. When she was working at a famous nail salon, she met Shirlyn. The two of them quickly became friends, and eventually decided to start their own website together. Naildesignideaz is the result of their collaboration - it's a website where they share their experience and offer tips on how to create beautiful nails.
Thoughts on "35 Oval Nail Designs"