25 Red Christmas Nails
NailDesigners, get glammed up with these fiery red Christmas nails!
Christmas is just around the corner and by now, you already have your plans all scheduled out and your outfit picked out. If you need red Christmas nails to go with your outfit (and yes, red goes with mostly everything!), then check out our Christmas designs in red.
If we were to be asked, our favorite red Christmas nail polish would be a deep and sparkly red. It's just that festive and joyous and perfect for the holiday season. With all the Christmas lights and glitter from Christmas balls and presents, your red Christmas nails will be a perfect match.
And in case you change your mind and want to check out snowflake nails or Christmas tree nails, we have those too. Heck, we even have Christmas toe nail designs!
24. Rudolf with the Red Nose Reindeer Nails
Photo Credit: christmas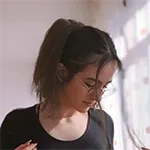 About Shirlyn Ramos
Shirlyn Ramos has worked as a manager for a famous nail salon chain for over 10 years. She's seen it all, and now she likes to share her experience with others in the hopes of helping them create beautiful nails. When she's not busy with work, Shirlyn enjoys spending time with her family and friends. She loves going on walks and exploring new places.
Thoughts on "25 Red Christmas Nails"