50 Crystalline Snowflake Nail Design Ideas
by Rose Walker
Happy Holidays, NailDesigners! Are you ready for some beautiful snowflake nail design ideas?
Nature is the greatest artist and snowflakes are one of her most amazing creations. Snowflake patterns are just endless as almost no two snowflakes are alike. Did you know that the largest snowflake on record fell in 1887 in Montana and it measured 15 inches! And just to give perspective, around 1 septillion ice crystals fall from the sky each winter in the US. Now that's a lot of snowflakes!
See Also: 35 Winter Wonder Snowflake Nails
You can keep all that interesting trivia in mind the next time you hunt up a good snowflake pattern for your nails. Without any more ado, here are 50 of the best snowflake designs that we've collected for you.
Check out the beautiful nail polish colors used including blues, whites, and even reds. See how each snowflake nail design gives off a different feel.
See Also: 40 Mesmerizing Nail Designs for Winter
49. Red Hot Chic Nails
Photo Credit: fabnailartdesigns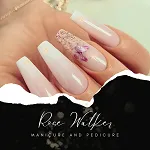 About Rose Walker
Rose Walker has worked as a nail artist for over 10 years. She's gained a lot of experience and developed her own unique style during that time. When she was working at a famous nail salon, she met Shirlyn. The two of them quickly became friends, and eventually decided to start their own website together. Naildesignideaz is the result of their collaboration - it's a website where they share their experience and offer tips on how to create beautiful nails.
Thoughts on "50 Crystalline Snowflake Nail Design Ideas"