21 Graceful Swan Nails
by Rose Walker
NailDesigners, do you like swan nails?
Many women want to have swan nail design art because of these graceful feathered creatures. A lot of the interest we have on swans probably stem from literature rather than the actual birds.
If you grew up with fairy tales and folk tales, you probably won't have escaped being told the story of the Ugly Duckling. In this sad little tale, an ugly duckling is shunned and shooed away wherever it went. It suffered the cold winter and the pangs of hunger until one day, the Ugly Duckling was so miserable and lonely that he threw himself at a flock of migrating beautiful swans. Instead of being killed as he expected, they welcomed him. When he looked in the water, the Ugly Duckling realized he had grown and matured into a beautiful swan and he flew away with his new family.
See Also: 50 Darling Animal Nail Art
If you've ever felt like an Ugly Duckling, we hope that you are now a full-fledged beautiful and graceful swan. And to symbolize that, enjoy these swan nail art designs.
As expected of our nail art veterans, we have a huge array of designs ranging from iconic, symbolic, and even abstract depictions of swans. A few actually remind us of Natalie Portman's The Black Swan movie. One design in the set uses actual feathers while others use gemstones.
See Also: 20 Stylish Feather Nail Art Tutorials
19. Black and White Swan Splendid Nails
Photo Credit: leive91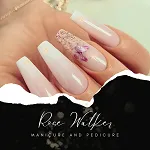 About Rose Walker
Rose Walker has worked as a nail artist for over 10 years. She's gained a lot of experience and developed her own unique style during that time. When she was working at a famous nail salon, she met Shirlyn. The two of them quickly became friends, and eventually decided to start their own website together. Naildesignideaz is the result of their collaboration - it's a website where they share their experience and offer tips on how to create beautiful nails.
Thoughts on "21 Graceful Swan Nails"