40 Vivid Turquoise Nail Designs
by Rose Walker
Turquoise is a very special color and today, we have a collection of beautiful turquoise nail designs.
Ask most women for their favorite nail polish colors and they'll likely answer red nail polish, pink nails, or even nude nails. Some women though, prefer the calming colors of this cyan shade.
See Also: 30 Cute Turquoise Nails
Not only is the name pretty, the word turquoise conjures up a lot of beautiful images in our mind. What do you remember when the word turquoise comes up?
Do you remember those beautiful stones around somebody's wrist or neck? Or do you remember the sea or the ocean from a distant vacation when the waters were a perfect medley of azure and turquoise?
And while that trip to the refreshing waters of the Caribbean are a far-off dream for now, buying a special shade of turquoise is not. Check out these beautiful designs that nail art enthusiasts have come up with to show off the beauty of this calming color.
39. Turquoise Stone Nail Art
Photo Credit: nicades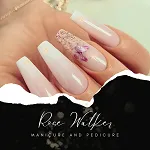 About Rose Walker
Rose Walker has worked as a nail artist for over 10 years. She's gained a lot of experience and developed her own unique style during that time. When she was working at a famous nail salon, she met Shirlyn. The two of them quickly became friends, and eventually decided to start their own website together. Naildesignideaz is the result of their collaboration - it's a website where they share their experience and offer tips on how to create beautiful nails.
Thoughts on "40 Vivid Turquoise Nail Designs"