30 Juicy Watermelon Nails
Of all the summer fruits that are famous around the world, there's one in particular that is easy to prepare and easier to eat as describe by most of its patrons.
Meet the watermelon. This fruit is very succulent and so juicy that the discoverers didn't even think of coming up a unique name for it and just go for a compound word of a similarly looking fruit and water. Watermelon's color ironically jives very well with the Christmas season having the most luscious red and a radiant green. Because of its rich colors, no wonder it is also a favorite design in nail art, considering that a fruit may be awkward to be even considered as a design for nail polishing.
See Also: 35 Lovely Gradient Nail Designs
Too see is to believe right? So what we have here are a few of the most brilliant and most awesome nail art designs inspired the watermelon fruit to convince you all. The feel of the designs is summer yet also very appropriate for this season again because of the color combo. Enjoy your nails and of course, the fruit as well.
29. Watermelon Design On Square Tip Nails
Image Credit: Liza Nails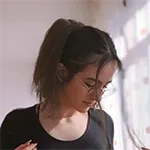 About Shirlyn Ramos
Shirlyn Ramos has worked as a manager for a famous nail salon chain for over 10 years. She's seen it all, and now she likes to share her experience with others in the hopes of helping them create beautiful nails. When she's not busy with work, Shirlyn enjoys spending time with her family and friends. She loves going on walks and exploring new places.
Thoughts on "30 Juicy Watermelon Nails"