40 White Acrylic Nails
by Rose Walker
Are you looking for desigs for white acrylic nails? If you are, you've come to the right place. This is naildesignideaz' collection of white acrylic nail designs.
See Also: 50 Best Acrylic Nails
White acrylic nails make for the perfect canvass. When you put on white acrylic nails, you essentially have an entire spread where you can lay out your design. Designs can range from simple to complex. You can just have white nails for a simple look or have designs of your favorite characters. Our Totoro nails below is one of our favorite cartoon designs.
See Also: 20 Best Acrylic Nails Tutorials
For a more mature and chic look, you can also have gold inlays or sparkles and gems. These are perfect for special occasions like weddings and parties.
Check out our collection below and tell us which your favorites are!
39. Elegant Acrylic Nail Art
Photo Credit: aliexpress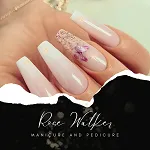 About Rose Walker
Rose Walker has worked as a nail artist for over 10 years. She's gained a lot of experience and developed her own unique style during that time. When she was working at a famous nail salon, she met Shirlyn. The two of them quickly became friends, and eventually decided to start their own website together. Naildesignideaz is the result of their collaboration - it's a website where they share their experience and offer tips on how to create beautiful nails.
Thoughts on "40 White Acrylic Nails"