32 Dashing White And Gold Nails
Remember that time when there was a ruckus in the internet about a particular dress in which the color combo is confusing if it is black and blue or white and gold? That is some weird phenomena alright and also one of the best times in the social media world.
Inspired by that weird dress, we decided to collect the best nail art designs with the white and gold color combo for today. No need to panic guys since nail art does not create such troubling illusion or effect for the eyes, this time it is really white and gold. Usually with these designs, white serves as the base polish while the gold is applied through glitters or textured polish and rendered with the intended patterns.
See Also: 30 Undeniably Cute Toe Nails
White and gold nails are truly glamorous and best fashion meant for the most exclusive parties out there. Be awed by this design technique and get inspiration from the showcased nail art samples lined up for today.
32. Gold Glitters On White Nails
Image Credit: Styletic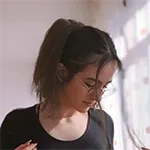 About Shirlyn Ramos
Shirlyn Ramos has worked as a manager for a famous nail salon chain for over 10 years. She's seen it all, and now she likes to share her experience with others in the hopes of helping them create beautiful nails. When she's not busy with work, Shirlyn enjoys spending time with her family and friends. She loves going on walks and exploring new places.
Thoughts on "32 Dashing White And Gold Nails"