30 Elegant Wedding Nail Designs
June may have already passed but the season of weddings is still on going. If its your own wedding that's coming up, I bet you're as busy as a horse preparing for the "big day" down to its last detail.
In relation to this, in the nail art business, artists also has a collection that matches the elegance of weddings. Elegant wedding nail art has few background colors that usually are the colors of the bride's gown– white, off white, beige, and light pink. With only just the base colors, nails are already made to fit for the event. In addition to the base, nail artist incorporate 3D effect to the nails using materials and design still connected to wedding. Some of the examples are laces, butterflies, flowers, and glitters that add sparkle to the over-all wedding outfit.
May for the bride or for her maids, elegant wedding nails are perfect accessories to celebrate one of the most beautiful day of a woman's life. May the collection below inspire those who are planning to get hitched soon to consider nail art as part of their wedding plans.
See Also: Top 50 Golden Wedding Nail Designs
Take a look at these 30 Elegant Wedding Nail Designs that will definitely convince you to get one on your wedding day! You may also check the 35 Ultimate Wedding Nail Designs!
30. Ornate Wedding Nail Art
Image Credit: VK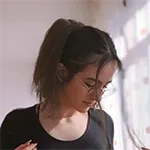 About Shirlyn Ramos
Shirlyn Ramos has worked as a manager for a famous nail salon chain for over 10 years. She's seen it all, and now she likes to share her experience with others in the hopes of helping them create beautiful nails. When she's not busy with work, Shirlyn enjoys spending time with her family and friends. She loves going on walks and exploring new places.
Thoughts on "30 Elegant Wedding Nail Designs"