30 Stunning Pink And Black Nails
by Rose Walker
Have you ever heard of Avril Lavigne and how she rocked the world with her catchy songs and trendy fashion? If yes, then you probably noticed that in all her fashion statement and ads, there are only two colors that she and her team are always using and damn, the color combination seemed to be created and meant just for her.
The combination of black and pink stereotypically signifies women teen rebellion. It is of course very contrasting where both colors can serve as background shade of the other. In today's post, we take advantage of this color combination not just for its genius pairing but also to its explosive appeal to the youngsters.
Black and pink nail art started to gain fame during the time when Avril was dominating the music scene. Because of her, the color combination was known to the world and a lot of nail art designs were created with it. Some of the incorporated designs with these colors are skulls, peace sign, cross, and hearts.
See Also: 30 Lovely Valentine's Nails
30 of the best pop emo nail art designs with black and pink motif are currently lined up for you guys below. Enjoy the selection and get wild with it.
30. Chevron Nail Design
Image Credit: Idea Stand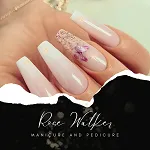 About Rose Walker
Rose Walker has worked as a nail artist for over 10 years. She's gained a lot of experience and developed her own unique style during that time. When she was working at a famous nail salon, she met Shirlyn. The two of them quickly became friends, and eventually decided to start their own website together. Naildesignideaz is the result of their collaboration - it's a website where they share their experience and offer tips on how to create beautiful nails.
Thoughts on "30 Stunning Pink And Black Nails"