38 Pretty Pink Nail Designs
If you ladies out there are like Barbie, then most probably you have this unique mood that dictates your over-all fashion for the day or for the season and it is called the Pink Mood.
Pink mood is just having that feeling that wearing something with pink makes the world a much, much better place. So to help you achieve your perfect world, what we have in store for you guys today are the cutest pink nail art designs out there. The color is a representation of a young woman, more mature than a kid but not old enough to be considered as an adult. Ladies can have the light powder pink shade or the darker versions which gauge the seriousness of the bearer's attitude.
See Also: 30 Grand And Classy Nails
The designs gathered for this post are equally unique, inspiring, and trend-setting for all ladies. Be sure to check out the samples and love one or two. These nail art designs are made easy for you ladies to have and enjoy so, what are you waiting for?
38. Ornate Design On Pink Nails
Image Credit: Idea Stand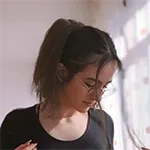 About Shirlyn Ramos
Shirlyn Ramos has worked as a manager for a famous nail salon chain for over 10 years. She's seen it all, and now she likes to share her experience with others in the hopes of helping them create beautiful nails. When she's not busy with work, Shirlyn enjoys spending time with her family and friends. She loves going on walks and exploring new places.
Thoughts on "38 Pretty Pink Nail Designs"