17 Classy Pearl Tip Nails
by Rose Walker
The French manicure is considered a classic when it comes to nail designs, but let's be honest:
The timeless white tip can get boring.
If you're nodding in agreement, here's a great collection of pearly tip nails you'll surely enjoy. These designs are set to take your classy and elegant look to a whole new level.
See Also: 40 French Tip Nails with Design Art
Ready?
Simple but Pure Beauty Pearl Tip Nails
Photo Credit: wordpress
French Tip with Rose Gold Tip
Photo Credit: pinimg
Tip Nails with White Glitter
Photo Credit: lemoney
Nail Yet Simple But Elegant
Photo Credit: polishInfatuated
Pearls And White Dress French Tip
Photo Credit: pinterest
Pink Nails with Pearl Tip
Photo Credit: dhgate
Duck Feet Nails with Rhinestones
Photo Credit: Betel
White-Tipped French
Photo Credit: prettydesigns
Pretty French Tip
Photo Credit: ameblo
Princess Necklace Look Nail Design
Photo Credit: bodasnovias
Pearl with Floral Nail Art
Photo Credit: sortra
Mother of Pearl Nails with Glitter Tips
Photo Credit: slodive
White Nail Art Tips Pearl Acrylic Gem Glitter
Photo Credit: weddbook
Square Full Cover Fake Nail Tips
Photo Credit: weddbook
Pearl and Flowers French Tip 3D Stick On Nails
Photo Credit: starberrykoko
Acrylic French Nail Tips Nature Color Pearl Rhombic Crystals Diamond
Photo Credit: aliexpress
Bridal White Pearl Nails French Tip Design Nail Art
Photo Credit :Pinterest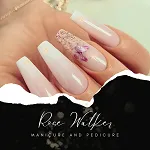 About Rose Walker
Rose Walker has worked as a nail artist for over 10 years. She's gained a lot of experience and developed her own unique style during that time. When she was working at a famous nail salon, she met Shirlyn. The two of them quickly became friends, and eventually decided to start their own website together. Naildesignideaz is the result of their collaboration - it's a website where they share their experience and offer tips on how to create beautiful nails.
Thoughts on "17 Classy Pearl Tip Nails"