30 Praiseworthy Cross Nail Art
by Rose Walker
There are a lot of people in this world who are very close and dependent to their faith that a few may even offer their own lives just to let the world know that they are that serious. Because religion is probably the most famous organization known to the world, its symbolism are undeniably, the most marketable as well.
Let's us take for example Christianity. Aside from the Bible and the teachings of Jesus which greatly influenced how people live their lives and treat each other, the symbol of the cross is very famous in its own rights. Not only in the religion, the symbol of the cross is also very popular in arts and fashion. It may be connected to their faith or not, but some people choose the symbol of the cross for their fashion endeavors such as nail art. The symbol itself is very easy to draw that is why there are a lot of variations artists can do with it. In nail art, the cross can be painted with black or white, colored, or can also be gem embellished. One cross may occupy the entire length of nails or it can be a part of a more elaborate design.
See Also: 30 Admirable Nails For Little Girl
Cross-painted nails may not be appropriate to some especially to people who consider the cross to be so holy that it can't be used for other purpose other than for worship. However, no one can deny either that the symbol is too cool and awesome as an art subject. Whichever you side on, we offer you guys today's collection which showcases cross nail art designs. Enjoy.
30. Red Cross Studs On Gel Nails
Image Credit: Nail Art Style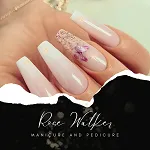 About Rose Walker
Rose Walker has worked as a nail artist for over 10 years. She's gained a lot of experience and developed her own unique style during that time. When she was working at a famous nail salon, she met Shirlyn. The two of them quickly became friends, and eventually decided to start their own website together. Naildesignideaz is the result of their collaboration - it's a website where they share their experience and offer tips on how to create beautiful nails.
Thoughts on "30 Praiseworthy Cross Nail Art"