30 Adorable Panda Nails
Panda lovers, good news! We've got panda nails for you today.
Do you think pandas are really cute animals? Do you enjoy watching funny panda videos on YouTube and want to smother one in a big hug? If you do, get playful for a day and try out these panda nail designs we've collected for you.
Many panda nail art tutorials on the internet feature mostly the face of these roly-poly creatures. The usual materials on hand are a nude color nail polish for the base, black and white nail polish for the actual panda design, and a dotting tool like a toothpick.
See Also: How to Make Panda Nail Art: Step by Step Tutorial
For the nail designs we collected below though, we've added panda decals, painting-like renditions, and cartoony versions. Take your pick from our thirty panda designs.
29. Crafty Black and White Pandas
Photo Credit: thenailtrail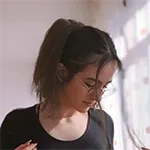 About Shirlyn Ramos
Shirlyn Ramos has worked as a manager for a famous nail salon chain for over 10 years. She's seen it all, and now she likes to share her experience with others in the hopes of helping them create beautiful nails. When she's not busy with work, Shirlyn enjoys spending time with her family and friends. She loves going on walks and exploring new places.
Thoughts on "30 Adorable Panda Nails"