20 Teenage Mutant Ninja Turtle Nails
by Rose Walker
Cowabunga! It's Teenage Mutant Ninja Turtle nails!
It's pretty easy to recognize what green skin and four colored masks are referring to: the teenage mutant ninja turtles! Are you familiar with those four iconic crime-fighting (and pizza-eating) ninja turtles who just so happen to be named after some of the most famous artists in history? If so, then these ninja turtle nails could just be something that could catch catch your eye, especially if you're a fan of the series.
These designs could be great if you're going to a costume party, or if your kids are into the show or comics. At the very least, they could be a great conversation starter. Don't be surprised if kids or matrons chat you up in the grocery aisle!
See Also: 50 Darling Animal Nail Art
From the smart Donatello to the responsible Leonardo—from the laid-back Michaelangelo to the fierce Raphael, they're all here and completely adorable in these nail designs below.
20. Michelangelo Nails
Photo Credit: jamylyn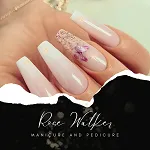 About Rose Walker
Rose Walker has worked as a nail artist for over 10 years. She's gained a lot of experience and developed her own unique style during that time. When she was working at a famous nail salon, she met Shirlyn. The two of them quickly became friends, and eventually decided to start their own website together. Naildesignideaz is the result of their collaboration - it's a website where they share their experience and offer tips on how to create beautiful nails.
Thoughts on "20 Teenage Mutant Ninja Turtle Nails"