20 Stand Out Neon Green Nails
Hello, Naildesigners! Wanna go for something wild like neon green nails?
Subtle nudes and blush pinks are awesome colors and suit most of our fashion and daily needs. However, when you need to go wild and crazy with bright bursts of color, these neon green nails should satisfy. Your friends and colleagues will surely turn their heads and make nice comments about your latest mani and pedi.
20 Stand Out Neon Green Nails
Neon green nails would go great with black outfits. The same goes for white, and also shades of green and blue. You can make a fashion statement with a pretty summer dress and bright neon nail polish.
When's the perfect time to use this shade? Summer, spring, and even Halloween are the times that we most often spot this color. It's great for winter and autumn too if you want or need a splash of color anytime.
There's a variety of designs you can do, too. Check out our collection below!
Perfect Pink Stripe in Neon Green Nails
Photo Credit: lifeisbetterpolished
Green Neon and Polka Dot Nails
Photo Credit: nailpolis
Simple Duck Feet Nails
Photo Credit: thenailpolishchallenge
Neon Green Matte
Photo Credit: sunnysideup
Green Neon Pastel Square Nail
Handmade Neon Green Nail Lacquer
Photo credit: paulina's
Neon Green Tropical Nails With Gold and Black Palm Tree
Photo Credit: jamylyn_nails
Cute Neon Green and Pink Nails in Polka Dot Art
Photo Credit: bedizzle
Cute Black Dotted Nails
Photo Credit: askideas
Neon Green Nail Art Mix
Photo Credit: mroofa
Simple but Attractive Dark Green Neon
Photo Credit: polishandpaws
Cute Neon Green Nail Art with Polka Dot, French Tip and Cross
Photo Credit: styletic
Water Spotted Nail Stamping
Photo Credit:
Neon Green and White Nails with Cheetah Design
Photo Credit: forcreativejuice
Neon Green Nails with Green Neon Leopard Accent
Green Neon in Ballerina Nails
Photo Credit: Naglargoteborg
Spider Web in Neon Green Nails
Photo Credit: askideas
Neon Green Nails Polish
Photo Credit: aliexpress
Neon with Chevron and Silvery Nails
Photo Credit: Pinterest
Neon Green with Black Bat Spider and Stripped Nail Design
Photo Credit: styleoholic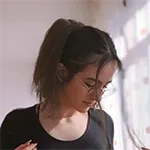 About Shirlyn Ramos
Shirlyn Ramos has worked as a manager for a famous nail salon chain for over 10 years. She's seen it all, and now she likes to share her experience with others in the hopes of helping them create beautiful nails. When she's not busy with work, Shirlyn enjoys spending time with her family and friends. She loves going on walks and exploring new places.
Thoughts on "20 Stand Out Neon Green Nails"