35 Spectacular Water Marble Nail Art
Do you like to get your nails done in a unique way? How about having a polish that is both colorful and psychedelic? Yes, there is such a thing out there and we have it for you guys today.
Water marble design is an intricate coloring technique for nail art that produces stunning effects on nail polishes. Much like where it originates, marbles have the same coloring patterns which almost can hypnotize a person because it is swirling and repeating. If you look at it on another perspective, water marble design is like layered petals of a unique flower. There is no restrictions as to the color combinations as long as it is the demand of the one who wants to try it.
See Also: 20 Gorgeous Marble Nail Art Tutorials
Check out the selected few designs we have in store for you today. They are stunning, very colorful, and very trendy, all ready for you guys to have.
35. Pink And White Water Marble Nails
Image Credit: Ideas For Beauty Pic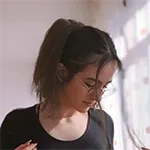 About Shirlyn Ramos
Shirlyn Ramos has worked as a manager for a famous nail salon chain for over 10 years. She's seen it all, and now she likes to share her experience with others in the hopes of helping them create beautiful nails. When she's not busy with work, Shirlyn enjoys spending time with her family and friends. She loves going on walks and exploring new places.
Thoughts on "35 Spectacular Water Marble Nail Art"