40 French Tip Nails with Design Art
by Rose Walker
Hello, NailDesigners! Are you ready to go crazy on the classic French manicure? Check out our daring list of French tip nails with design art.
We are huge fans of the classic French tips. They are simple, understated, and elegant. They go with any outfit and they are good for any casual or formal occasion.
Did you know? The French manicure is called "American nails" by the French while Americans call them "French manicures". Quite funny, right?
As great as French tips go, we are often seized with the desire to experiment. Check out our awesome list of all these nail art designs that have been inspired by the classic French tips. We've got colored tips, golden tips, rhinestone tips, holographic glitter, dotted tips, and a whole lot more!
See Also: 40 Alluring French Nail Designs
Just remember, naildesigners! The secret to an awesome French tip is to make the tips perfect. Messy tips don't cut it!
39. Floral Over Nude Stamping Nails
Photo Credit: bloglovin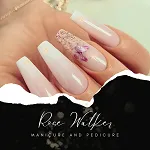 About Rose Walker
Rose Walker has worked as a nail artist for over 10 years. She's gained a lot of experience and developed her own unique style during that time. When she was working at a famous nail salon, she met Shirlyn. The two of them quickly became friends, and eventually decided to start their own website together. Naildesignideaz is the result of their collaboration - it's a website where they share their experience and offer tips on how to create beautiful nails.
Thoughts on "40 French Tip Nails with Design Art"