30 Lovely Valentine's Nails
by Rose Walker
Bookmark this page because we have the best Valentines nails for you, ladies. You'll definitely find our collection useful every year that Valentine rolls around or for any day that you're in the mood for romantic nails.
Flowers may have already wilted and chocolates have long been gobbled, but still, the feelings of romance and intimacy linger for those blessed with love and inspiration. To have a memoir of our love feast, we are featuring hearts, Cupid designs, roses, kisses and more.
As expected, Valentine nail art designs are predominantly red, white, or pink in color and shade. And the ubiquitous heart is present, of course. Still, you'll find unique designs in our collections like cute texts and dedications, even glittered to accentuate their meanings.
Truly, these nail art designs will rekindle and stir emotions that we feel whenever we receive genuine love from our special someone.
Check out our best Valentines art that we've gathered from the treasure trove of the World Wide Web. Stay in love and spread the feeling!
30. Shimmering Pink Heart And Stripes Nail Design
Image Credit: Instagram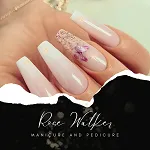 About Rose Walker
Rose Walker has worked as a nail artist for over 10 years. She's gained a lot of experience and developed her own unique style during that time. When she was working at a famous nail salon, she met Shirlyn. The two of them quickly became friends, and eventually decided to start their own website together. Naildesignideaz is the result of their collaboration - it's a website where they share their experience and offer tips on how to create beautiful nails.
Thoughts on "30 Lovely Valentine's Nails"