36 Festive Christmas Nail Designs
I can almost hear the battling carols in the air as the world approaches the happiest of all seasons, the Christmas. People are slowly preparing for the holidays and so, we opted to feature a new article in this site which will also get you ready for it.
Christmas nail art is all about reds, greens and whites, basically the colors of this joyous season. Much like its expected decors, the designs for this nail art most of the time showcase the famous items or living things that are forever been associated with Christmas. Designs like reindeers, snowflakes, candy cane, and snowman are just a few of the iconic symbols of Christmas that can be painted into the nails. Of course, we do not forget about Santa Claus and the gifts he bring to those who are not naughty.
It may be too early for you guys to get this nail art now, but I believe that being early is not a bad thing at all. Since the Christmas spirit brings joy and peace to everyone, having Christmas-inspired nails would help the world forget about its problems and unitedly awaits the holidays with smiles.
See Also: 40 Creative Christmas Nail Art Designs
Here are the 36 Festive Christmas Nail Designs to get you inspired by! For further design inspiration, you may visit our Top 35 Manicure Ideas For Christmas collection!
36. Gold Snowflakes On Black Polish
Image Credit: Nailbees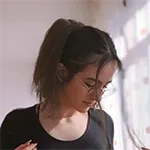 About Shirlyn Ramos
Shirlyn Ramos has worked as a manager for a famous nail salon chain for over 10 years. She's seen it all, and now she likes to share her experience with others in the hopes of helping them create beautiful nails. When she's not busy with work, Shirlyn enjoys spending time with her family and friends. She loves going on walks and exploring new places.
Thoughts on "36 Festive Christmas Nail Designs"