38 Holiday-Ready Beach Nails
NailDesigners, are you dreaming of a warm sandy beach and a tropical paradise? If you are, you're not alone! We're right there along with you with these holiday-ready beach nails.
Nothing spells summer more than a trip to the beach. You and I have so many memories when it comes to summer at the beach and we can all capture them as nail art.
See Also: 35 Exquisite Beach Nails
Close your eyes and recall…
A beautiful golden beach with palm trees and coconut trees
Seagulls flying overhead
The sandy beach dotted with the occasional starfish and a sprinkling of bleached shells
Surfing in the sun
The beautiful and calming music of the surf crashing on the beach
Tortoises and seahorses and marine life
Tide pools teaming with all sorts of sea life
Anonymous footprints in the sand
Yep, we've got all these memories captured as nail art designs in our collection below. We've got them in vibrant colors, in glittery nail polish, gold accents, dark silhouettes, and more.
38. Pink and Black Beach Nails
Photo Credit: ladyandthe_stamp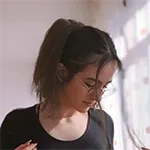 About Shirlyn Ramos
Shirlyn Ramos has worked as a manager for a famous nail salon chain for over 10 years. She's seen it all, and now she likes to share her experience with others in the hopes of helping them create beautiful nails. When she's not busy with work, Shirlyn enjoys spending time with her family and friends. She loves going on walks and exploring new places.
Thoughts on "38 Holiday-Ready Beach Nails"