30 Easy Christmas Nails For Beginners
Naildesigners, are you looking for easy Christmas nails that don't need pro skills?
If you searched the net for the best Christmas nail designs, you might have found a gazillion awesome nail art to try. However, if you're just a beginner who hasn't been doing nail art for a long time, you might find that these designs are advanced after all and look better onscreen than on your nails at the moment.
Every veteran nail artist started as a beginner so worry not! If you keep on practicing and following free nail tutorials, you will soon ramp up your skills. The secret is to never stop trying and learning from all the free resources on the Internet, from friends, and from shared interest groups in social media.
See Also: 15 Simple And Easy Nail Tutorials For Beginners
In the meantime, we've collected easy Christmas nails that you can try. You'll find that these designs often have a single nail polish color with maybe just a bit of accent, a simple nail design, or applied with glitter.
Don't forget. Practice makes perfect!
29. Pretty Green Polish with Christmas Tree Nails
Photo Credit: thenailpolishchallenge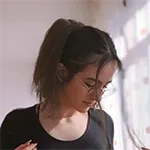 About Shirlyn Ramos
Shirlyn Ramos has worked as a manager for a famous nail salon chain for over 10 years. She's seen it all, and now she likes to share her experience with others in the hopes of helping them create beautiful nails. When she's not busy with work, Shirlyn enjoys spending time with her family and friends. She loves going on walks and exploring new places.
Thoughts on "30 Easy Christmas Nails For Beginners"