20 Picture-Perfect Light Blue Acrylic Nails
See our brand new set of light blue acrylic nails!
If you enjoyed our light blue nail polish designs, you might like this next collection. After simple nail polish, it's fun to experiment with acrylic nails.
Acrylic nails are fake nails applied using a powder polymer and a liquid monomer. They harden when exposed to natural air. Once applied on your nails, they make for a fun canvas for applying nail designs and colors.
See Also: 20 Best Acrylic Nails Tutorial
As can be seen from all of our 20 light blue acrylic nail designs, you can totally do a lot of styling with acrylic nails. You can make clouds, stun with glitter and sparkles, be subtle with matte colors, or even come up with cute and kawaii designs like Bambi. The possibilities are endless with an acrylic canvass.
Check out our picks of light blue acrylic nails and tell us your favorites!
20. Stunning Light Blue Acrylic Nails
Photo Credit: nailartstyle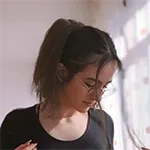 About Shirlyn Ramos
Shirlyn Ramos has worked as a manager for a famous nail salon chain for over 10 years. She's seen it all, and now she likes to share her experience with others in the hopes of helping them create beautiful nails. When she's not busy with work, Shirlyn enjoys spending time with her family and friends. She loves going on walks and exploring new places.
Thoughts on "20 Picture-Perfect Light Blue Acrylic Nails"