30 Glamorous New Years Nail Art
A few days from now and we are to again turn a page of the world's history as we step into 2017. A whole new year of experiences and opportunities, a new year of life.
To celebrate this event, today's nail art post is all about new year designs. Nails decorated with fireworks and champagnes are the things you can get from the collection today. The dominant colors for this nail art are blue, red, and silver. Of course, there are nail art samples with the numbers of 2, 0, 1, and 7 which can be painted on to all nails or separated.
See Also: 42 Holiday Christmas Nail Polish Design
As we are about to unfold another chapter of our lives in 2017, having a new year themed nail art will give us that fashion edge above everyone. Check out the best samples below, all lined up just for you guys.
30. Glittered Clock Nail Art
Image Credit: Pinterest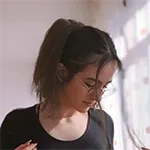 About Shirlyn Ramos
Shirlyn Ramos has worked as a manager for a famous nail salon chain for over 10 years. She's seen it all, and now she likes to share her experience with others in the hopes of helping them create beautiful nails. When she's not busy with work, Shirlyn enjoys spending time with her family and friends. She loves going on walks and exploring new places.
Thoughts on "30 Glamorous New Years Nail Art"