30 Enchanting Navy Blue Nail Designs
There is an old saying that goes "simplicity is beauty" and in the world of fashion trends, this is so true most of the time. Sometimes, too much accessories and uniqueness strays everything from the true objective of fashion which is to create beauty.
This principle also applies in nail art business. Although there are new innovations to the designs which are extravagant and loud, the basics will still maintain its place in the top choices. A good example of this is a collection of nail art with one plain background polish of navy blue. Personally, I see the color choice as one of the best nail polish color out there. It is elegant, sophisticated and easy to wear. Since its nail art, additional yet simple designs are incorporated into it using glitters, other polishes, and even cute stickers. The navy blue provides the best background for the nail art since its dark, accentuating whatever design is on top of it.
See Also: 42 Classy White Nail Art Ideas
To see is to believe right? So better check out the navy blue nail art samples offered to you guys here. Because of its awesomeness, surely, this collection will place itself into one of my all-time favorites. Below are the 30 Enchanting Navy Blue Nail Designs:
On the other hand, you might want to check our 36 Gorgeous Blue Nail Designs For Girls collection!
30. Glitters And Stones On Navy Blue Nails
Image Credit: Stay Glam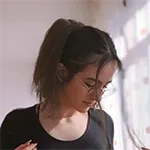 About Shirlyn Ramos
Shirlyn Ramos has worked as a manager for a famous nail salon chain for over 10 years. She's seen it all, and now she likes to share her experience with others in the hopes of helping them create beautiful nails. When she's not busy with work, Shirlyn enjoys spending time with her family and friends. She loves going on walks and exploring new places.
Thoughts on "30 Enchanting Navy Blue Nail Designs"