34 Endearing Valentine Nail Art Designs
by Rose Walker
Art was first and foremost created through the expression of love. Because of love, earliest humans tried to find a way to preserve the memory and experience where they felt extreme emotions of happiness and excitement. Love ignites the passion for art ever since its crude beginnings and of course up until now.
Speaking of love, check out the Valentine's Day-inspired nail arts we've collected for everyone this time. The details for this collection may be very specific but the design patterns can be as unique as a snowflake. Valentine-inspired nail art is all about hearts, the word "love", and the color red. Combinations of the said subjects coupled with known techniques make this collection not just a seasonal hit but also an all-year-round gig.
Nail art of this inspiration is probably of the simplest to think of. Does not really need too much brains to do magic in your own nails with unique but "in" designs. For inspiration, you may look into the 34 Endearing Valentine Nail Art Designs collection below and be lovestruck with the best samples we got from the web.
See Also: 35 Rocking Valentines Day Toenail Designs
34. White Hearts On Shimmering Red Nails
Image Credit: Canadian Nail Fanatic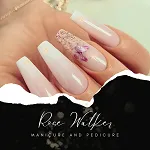 About Rose Walker
Rose Walker has worked as a nail artist for over 10 years. She's gained a lot of experience and developed her own unique style during that time. When she was working at a famous nail salon, she met Shirlyn. The two of them quickly became friends, and eventually decided to start their own website together. Naildesignideaz is the result of their collaboration - it's a website where they share their experience and offer tips on how to create beautiful nails.
Thoughts on "34 Endearing Valentine Nail Art Designs"