30 Glam Black and Gold Nails
by Rose Walker
What's as sexy as gold glitter nails? Black and gold nails, that's what!
NailDesigners, we're bringing to you our special collection of black and gold nail designs. If for some reason you don't want Christmas nail designs for the holidays, the next best bet is to go for a black and gold combo. This pairing is sexy, glamorous, chic, and best of all, it's just right for all the holiday parties you'll be attending. It can even stretch out through the New Years.
We can imagine your outfit already. A gorgeous black party dress and some gold accessories and bright lippy color. How exciting!
With just two colors, you get an unlimited amount of possibilities. You can go dotted, distressed, gradients, or stamped manicures. Check out our black and gold nail designs below.
29. Glamorous Nails
Photo Credit: ilnp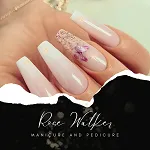 About Rose Walker
Rose Walker has worked as a nail artist for over 10 years. She's gained a lot of experience and developed her own unique style during that time. When she was working at a famous nail salon, she met Shirlyn. The two of them quickly became friends, and eventually decided to start their own website together. Naildesignideaz is the result of their collaboration - it's a website where they share their experience and offer tips on how to create beautiful nails.
Thoughts on "30 Glam Black and Gold Nails"