35 Attractive Flower Designs For Nails
Nail art is first and foremost all about inspiration. Whatever the design is, may it be subtle or loud, complex or simple, it should create a positive feeling to the bearer and boosts confidence in order for the bearer to face the world.
One thing that creates inspiration with no question are the flowers. God made flowers for people to be loved. Even the largest but pungent-smelled rafflesias are still adored by many by just its mere size. The obvious thing about flowers is the variety of colors it showcases. We know for a fact that the beauty of petal colors are designed to entice pollinators such as bees to visit the flower and pollinate the plant. If you think about it, the colors also are indirectly design to attract people to appreciate the plant even more and cultivate it therefore producing more viable plant numbers.
See Also: 32 Easy Nail Designs For Beginners
The beauty of the flowers and its undeniable effect to humans' emotional states are the best determinants why they are one of the best choices for nail art. Nails are made as canvass to flower art masterpieces carefully created by nail artists around the world. The design possibilities for a flower nail art is virtually of no bounds. Such are the examples we feature for you guys today. Be in love and be inspired.
35. Delicate Spring Nail Design
Image Credit: Best Art Nails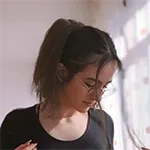 About Shirlyn Ramos
Shirlyn Ramos has worked as a manager for a famous nail salon chain for over 10 years. She's seen it all, and now she likes to share her experience with others in the hopes of helping them create beautiful nails. When she's not busy with work, Shirlyn enjoys spending time with her family and friends. She loves going on walks and exploring new places.
Thoughts on "35 Attractive Flower Designs For Nails"