30 Stunning Frozen Nail Art
In times when winter chill already is creeping inside our bones and makes us stiff, it us rather more fun to stay at home, snuck into our sheets and just slack all day watching movies and good 'ol tv. Truly, this cold season inspired a lot of movies and tv shows that unexpectedly, are also best watched during this time of the year.
The animated film Frozen have been a huge success when it was released. Aside from all the recognition given, it became one of the timeless animated masterpieces which influenced the newest of the generations. Because its popularity caused wave of influence around the world, a lot of products were also released that are Frozen-inspired. For young ladies, nail art is one of them.
See Also: 30 Merry Snowman Nails
The unforgettable characters of the movie and some of the iconic settings are the main design subjects for this nail art theme. Check out a few of the amazing designs we gathered from different posts shared on the web. Since its already winter time, it is also best to choose one for yourself and let it go.
30. Faces Of Olaf Nail Design
Image Credit: Pinterest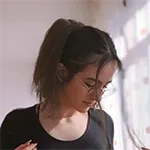 About Shirlyn Ramos
Shirlyn Ramos has worked as a manager for a famous nail salon chain for over 10 years. She's seen it all, and now she likes to share her experience with others in the hopes of helping them create beautiful nails. When she's not busy with work, Shirlyn enjoys spending time with her family and friends. She loves going on walks and exploring new places.
Thoughts on "30 Stunning Frozen Nail Art"