30 Merry Snowman Nails
by Rose Walker
If you have noticed, the recent posts for this website were all related to the upcoming winter season and of the holidays. I actually intended to stick to this plan for the next couple of weeks since I feel that you guys would appreciate the articles more if its relevant and in line with the season.
Today's nail design subject will all be about snowman. Since Christmas is coming soon, this design will surely be trendy and cool for all the ladies out there. Snowman himself can either be presented with just the face or its whole flabby body. Some nails just feature the buttons, the nose, and the scarf which is are typical parts of a snowman design. Base polishes can be of any dark color since snow and snowman are expected to be white.
See Also: 40 Impressive Christmas Nail Designs
Be adored by the showcased snowman nails i have for you today. Take a picture of a design that you like and let your nail artist do it for you. Once it is done, then you are totally ready to rock the Christmas season.
30. Snowman Print On Blue Polish
Image Credit: Tumblr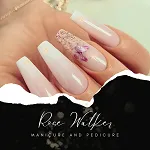 About Rose Walker
Rose Walker has worked as a nail artist for over 10 years. She's gained a lot of experience and developed her own unique style during that time. When she was working at a famous nail salon, she met Shirlyn. The two of them quickly became friends, and eventually decided to start their own website together. Naildesignideaz is the result of their collaboration - it's a website where they share their experience and offer tips on how to create beautiful nails.
Thoughts on "30 Merry Snowman Nails"